EXHIBITION
23 FEB - 17 JUN 2018
49 NORD 6 EST - FRAC LORRAINE - METZ (57)
Opening: Thursday, February 22, 7pm
& Frac in Live :
7pm – Exchange of Handwriting, 2006–2018 (Frac Lorraine Collection). Performance of Jiri Skala
8pm- In Jeopardy, Catwalk in the Temple of Jacent II, 2018. Performance of Jade Fourès-Varnier & Vincent de Hoÿm.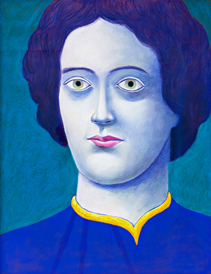 You Remind Me of Someone constitutes the first artistic proposal by Fanny Gonella, recently appointed as the director of 49 Nord 6 Est–FRAC Lorraine, after having acted for four years as artistic director of the Künstlerhaus in Bremen (DE). Conceived as a prolog, an act of openness in view of getting acquainted, this collective exhibition takes the form of an encounter between two entities: Gonella's last project featured in Germany and the collection of 49 Nord 6 Est–FRAC Lorraine, an iconic location which now begins a new chapter.
You Remind Me of Someone relies on mechanisms triggered by resemblance, mimicry, and reciprocity in order to explore our relationship to images in a world in which they multiply endlessly on a daily basis. The visual and gestural similarities between the works question affinities, elicit encounters, seek to find a common thread in this continuous flux. The exhibition proposes a conversation between two approaches to art at an intersection between works of young international artists and those from the emblematic collection of this site, which today is embarking on a new chapter.
Artists: Naama Arad, Jade Fourès-Varnier & Vincent de Hoÿm, Anja Kirschner & David Panos, Stefanie Knobel, Nicolas Party, Marie Voignier, Nicole Wermers & Artists of 49 Nord 6 Est – Frac Lorraine Collection : Alwar Balasubramaniam, Manon de Boer, Boris Ondreicka, Jiri Skala
A word from the curator
by Fanny Gonella, curator and director of the Frac Lorraine
You Remind Me of Someone explores resemblance and related mechanisms such as empathy and mimicry. Both established artists and young international talents invite you to discover works addressing, or playing with, resemblance. Rather than emphasize criteria originating in the modern era, such as uniqueness, individuality, and originality, the exhibition foregrounds commonness and similarity, whether between the works themselves or between those looking at them.
We invite you to peruse a portrait gallery, in the broad sense of the word, which brings together anthropomorphized objects as well as stories of crossing paths. Sculptures, videos, drawings, and participatory installations included in the gallery showcase objects or devices that are made in the human image. They also remind us in passing that we are constantly, and almost unwittingly, finding ways of identifying human forms in our environment. These works also point to the industrial equivalent of resemblance: standardization and replaceability of the individual by motion or speech, thus bringing us closer to the regularity and systematization of the machine. Another area of emphasis is the tension that arises from imitation, and thus from achieving closeness with the Other or with oneself.
As we assemble around works that resemble one another, can we test our capacity for empathy? Do we need to see resemblances between each other in order to grow closer? This is what is suggested by the American theorist Jonathan Flatley. For him "resembling another or acting like another" helps establish reciprocity, which constitutes the basis of every emotional connection. The transformation of affective relationships, in the age of digital capitalism, makes it necessary to envision different ways of being and acting together.
Share