CONFÉRENCE PERFORMÉE
SATURDAY 14 APR 2018, 13H
L'ARSENAL - METZ
Brigitte Mounier, actor and director of the Mers du Nord company
as a part of the festival Le Livre à Metz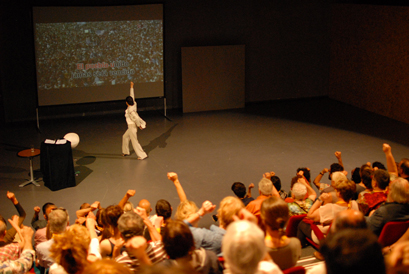 Athens, Moscow, Tahrir Square… what makes a crowd rise up against a regime? Personal conviction? Herd instinct? Exalted feelings? Emotional contagion? Through a refined, light-hearted and humorous analysis, Brigitte Mounier takes us back to ancient theater, the foundation of democracy, in order to capture the more spirited outbursts of popular protest in the 20th and 21st centuries.
The performance will be followed by a roundtable discussion on "We are stakeholders in a changing world" with the Metz association La Passerelle; the association Sherpa; the journalist Marie-Françoise Etchegoin ; and Brigitte Mounier, artistic director of the festival Le Manifeste
-
Featured as a part of the festival Le Livre – Littérature & Journalisme, "Libertés," in Metz, April 13 to 15.
Democratia Participativa (Extrait) de Compagnie des Mers du Nord on Vimeo.
Share