EXHIBITION
03 SEP - 06 FEB 2022
49 NORD 6 EST - FRAC LORRAINE - METZ (57)
3rd september 2021 – 6th february 2022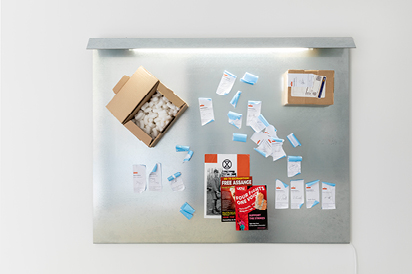 The training grounds of Paul Heintz (*1989, Saint-Avold) could be that of an investigator. Combining fiction and the real, the mental image and the archival document, the artist works with installation, film, and sound… in which the social norms are heckled. A graduate of the Beaux-Arts de Nancy and the Arts Décoratifs de Paris, Paul Heintz, invited by Fanny Gonella for the seventh iteration of "Degrés Est ," presents a project whose form is the tale of an investigation.
Taking George Orwell's dystopian novel 1984 as its point of reference, the project is the culmination of an investigation meticulously led by the artist. Accompanied by a detective, Paul Heintz, published a small ad in the English newspaper The Sun to find homonyms of the hero of the book, Winston Smith. The artist received responses from forty men, of which six accepted to meet him. The exhibition introduces the research material of the operation, revealing the other side of the set. On a series of mural panels we find, in an index-like approach, a collection of notes, plans, scouting maps, and investigation tools, condensing the working process. Numerous copies of the novel are also shown, redacted by five of the tracked-down Winston Smiths, composing the images of a fantastical storyboard. Finally, a film entitled Character, was produced around the orchestrated meetings of these homonymes, who share only the name of a fictional character and a story.
In using fiction to deconstruct the work of exploration, Paul Heintz creates a new system of confidence. Through the form of an investigation that puts in place an unreliable sociography, a space open to the noise of the world.
The work of Paul Heintz has been shown notably at the Ricard Foundation for the cycle "Partitions," at FID Marseille (2018); at the Salon de Montrouge (2015), at the Nuit Blanche de Paris (2014) etc. He was the recipient of the Révélation Émerige prize in 2019. In 2021 he will present a solo show at GB Agency (Paris). A book on the project is being published with GB Agency (Paris) and Éditions Extensibles.
CHARACTER (50 mns) est projeté en salle de conférence (premier étage du Frac) chaque premier dimanche du mois à 17h.
À l'occasion de l'exposition, Paul Heintz réalise également un cahier de citations en édition limitée.
―
Commissariat : 49 Nord 6 Est – Frac Lorraine
Share