EXHIBITION
28 JUN - 06 OCT 2019
49 NORD 6 EST - FRAC LORRAINE - METZ (57)
Degrés Est : Florence Jung
Opening, THURSDAY, JUNE 27, at 7 PM with the participation of the artist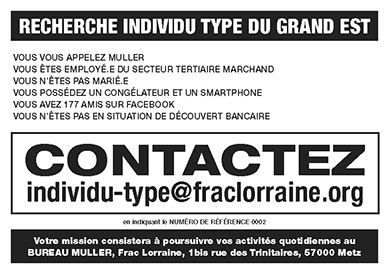 Degrés Est is part of a series of events organized in collaboration with FRAC Alsace and FRAC Champagne-Ardenne, focusing on artists with ties to the Grand Est region.
The three FRACs of the Grand Est now operate as a network. This new configuration has deepened the desire of local artists to develop projects in collaboration with these essential actors in the artistic ecosystem to which we belong.
With this outcome in mind, 49 Nord 6 Est has dedicated a space for artistic creation originating in the Grand Est. Visitors are invited to discover the work of an artist connected to the Grand Est region and nominated, in turns, by FRAC Alsace, FRAC Champagne-Ardenne, and 49 Nord 6 Est – FRAC Lorraine.
Florence Jung, guest artist invited by Fanny Gonella, the director of FRAC Lorraine, is presenting the second project in the series. A catalog will be prepared for the occasion, adding to the growing collection of publications devoted to Degrés Est projects.
-
Florence Jung writes scenarios that infiltrate reality. Her scripted situations are built around a system of cues, absences, and rumors. Based on social science, as well as literature and philosophy, Jung's work explores the paradoxes of the contemporary individual, his or her relationship to uncertainty, and the narrative potential of suspicion.
Prior to her exhibition at 49 Nord 6 Est – FRAC Lorraine, she examined various statistical data and the results of opinion polls conducted among the residents of the Grand Est in order to create the profile of a typical individual. Jung's project consists in an attempt to locate such a person (see the ad on p. 8), whose existence, inferred from figures and estimates, seems doubtful.
Florence Jung was born in 1986 in Lorraine, and is currently participating in a residency at the Rijksakademie van beeldende kunsten in Amsterdam. Her work was featured in numerous solo and group exhibitions, including at Stroom Den Haag, the New Gallery in Paris, La Salle de bain in Lyon, the Athens Biennale, the Swiss Cultural Center in Paris, the Kunsthalle Basel, and the Kunsthaus in Zürich. She was awarded the Swiss Performance Prize in 2013 and, in 2017, the Dr. Georg and Josi Guggenheim Prize and the Swiss Art Award.
Share