EXHIBITION
25 OCT - 26 JAN 2020
49 NORD 6 EST - FRAC LORRAINE - METZ (57)
Degrés Est : Juliette Mock
October 25 2019 – January 26, 20
Opening: thursday october 24 at 7pm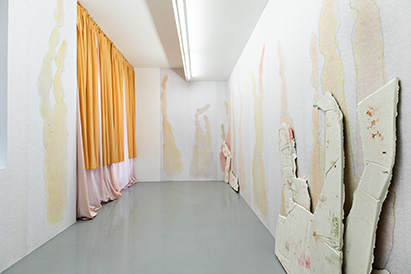 Degrés Est is part of a series of events organized in collaboration with FRAC Alsace and FRAC Champagne-Ardenne, focusing on artists with ties to the Grand Est region.
The three FRACs of the Grand Est now operate as a network. This new configuration has deepened the desire of local artists to develop projects in collaboration with these essential actors in the artistic ecosystem to which we belong.
With this outcome in mind, 49 Nord 6 Est has dedicated a space for artistic creation originating in the Grand Est. Visitors are invited to discover the work of an artist connected to the Grand Est region and nominated, in turns, by FRAC Alsace, FRAC Champagne-Ardenne, and 49 Nord 6 Est – FRAC Lorraine.
Juliette Mock, guest artist invited by Marie Griffay, the director of FRAC Champagne-Ardenne, is presenting the third project in the series.
A catalog will be prepared for the occasion, adding to the growing collection of publications devoted to Degrés Est projects.
In her work, Juliette Mock forges connections between desire, matter, and narrative. Her drawings and sculptures seamlessly shift the subject from one medium to another as they examine the very material they are made of. As part of Degrés Est, the artist presents an original installation, which starts at the crotch and uses the entire exhibition space, floor to ceiling.
Born in 1992, Juliette Mock graduated from the ESAD in Reims and was awarded a residency at the Friche Artistique in Reims. She now lives in Le Mesnil-sur-Oger and Montreuil.
In addition to her exhibition at Degrés Est, Juliette Mock will complete a research residency in the emergency department at the Sarreguemines hospital (57). Next year she will present the results of her research alongside selected works from the 49 Nord 6 Est – FRAC Lorraine collection at the Saint-Avold hospital (57).
Share