PSYCHOANALYTIC TETE-A-TETE & PERFORMANCE
11 JAN - 11 JAN 2020
49 NORD 6 EST - FRAC LORRAINE - METZ (57)
3pm | A psychoanalytic tete-a-tete with Michel Klein and Yves Paul, psychoanalysts, members of the Association Borromée
-
5pm | Performance, with Victoria Sin, artiste, performeur.e drag & Emilie Skrijelj, accordéoniste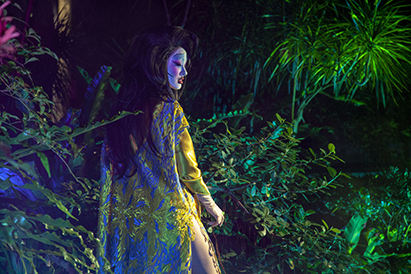 a psychoanalytic tete-a-tete
3pm/ Surfaces
Michel Klein et Yves Paul
psychoanalysts, members of the Association Borromée'
We increasingly communicate through the interfaces of our devices. How does this affect our relationship to reality? Does it alter the architecture of our psyche? We will address these questions by analyzing characters from Amos' World as well as try to determine whether psychoanalysis itself might be under the influence of a world of surfaces.
performance
5pm / If I had the words to tell you we wouldn't be here now
Victoria Sin, artiste, drag performer
Emilie Skrijelj, accordion player
How do we inhabit our own, individual bodies within the social body? As persons of color, queer, trans, handicapped… how do we overcome obstacles? A hypnotic drag queen, Victoria Sin explores the multi-sensory stories of marginalized people. In a total work for the stage that includes text, music, and lighting, and surpasses any single reality, they will open up multiple speculative horizons.
Share